Demi Moore in V Magazine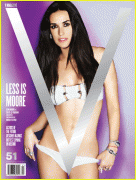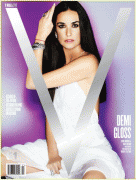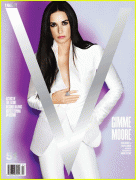 Demi Moore is a typical mom who just happens to move in Hollywood circles.
"My normal day is, I get up with the kids, take them to school, a few days a week I might do Pilates, reading, meetings, and then we always do family dinner at 6:30,"
she tells the next issue of V Magazine, on stands Monday.
Moore, 45, has three daughters with ex-husband Bruce Willis: Rumer, 19, Scout, 16, and Tallulah Belle, 13.
The famous acting couple have remained friends and do many things together, including walking the red carpet for premieres and taking trips, along with Moore's husband of two years, Ashton Kutcher, 29.
"It wasn't a piece of cake" for everyone to get along, reveals Moore, who posed for celebrity photographer Mario Testino for the V cover story. "It wasn't automatic or easy. It took diligence and effort and even enduring awkwardness, and a lot of general giving on my part and Bruce's part. And really, tremendously, on Ashton's part. Coming into my life, Ashton just wasn't meeting somebody that had baggage. You know, I had trunks!"
Part of the motivation to make her particular family situation work: respect.
"It's far more exhausting to be angry and blaming,"
she tells the magazine.
"You can dig deep within yourself and really have a desire for someone else's happiness, which I feel I do have for Bruce and he has for me. He has a joy and appreciation for what Ashton and I share, and for how Ashton is with the girls."
As for dealing with the paparazzi since moving back to Los Angeles, the star of the crime drama Flawless (due in theaters in March) says it has been a challenge.
"When I first moved back to L.A., I had a very difficult time and found that I didn't want to leave the house so much,"
Moore says.
"And then I started to feel, well, I don't want to be isolated and worried that if they're getting a photograph then I'm not going to go and do something. It's difficult when they hang out at the bottom of your street waiting for you to drive by."
That perspective explains her sympathy for some of today's young stars.
"No one has seen it worse than Britney Spears,"
she says.
"How can anyone see that and think that's an OK way to expect anybody to live, no matter where they're at in their life?"
[
Source
]