Evan Rachel Wood has had quite a year but refuses to change for anyone.
On rumors that she dated Mickey Rourke:
"There was no truth to it, and it was so annoying."
On being back together with Marilyn Manson:
"The friendship [with Mickey Rourke] was intimate and nice, and this makes it weird."
On working with Woody Allen:
"If he thinks you're perfect for the part, he lets you do whatever you want."
Evan Rachel Wood in GQ Magazine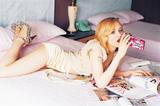 by ellen von unwerth

[
Source
]