Friday is Heels Day....fuck it, every day is heels day but today is Friday's Shoegasm over at Boobies.
Go say hi and see her heels
$135 Louboutins
My Iron Fist Slip on Hooker Heels $45
These are bed heels only....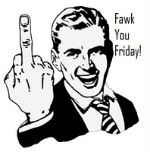 Yeah its Homemakers Expo show time...and I probably won't get to blog much until next week so thats my Fuck You Friday for the week. I give you the Fuck You Song to sing a long with.
Homemakers Expo at the Coca Cola Dome
Decor on a Buget stand