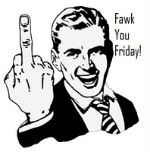 Boobies, Babies and a Blog
hosts Fawk You Friday. So, g
o link up and tell us about that Fucker that cut you off in traffic or the assbag that sneezed down your neck or the untraceable Plonker who never changes the toilet roll when its finished.
Here are my grumbles:
Fuck you to my premenstrual iPod that never wants to play along. I get to gym today looking forward to listening to my Jack White and all my fucking songs are corrupt. Temperamental little Bitch that she is.
Fuck you to Winter. I hate you! I detest being cold and you are rapidly creeping in. Slipping in the back door like the sneaky Doochebag you are. Long-sleeved tops and jackets are being hauled out. Don't get me wrong, I love all the cute boots this season, but I hate having to wear layers of clothes that makes you look like fucking Mitchelin Man.
Fuck You to my pathetic local Spar Supermarket for never stocking my favourite Vanilla Yogi-Sips. I was dying for one and you failed to bestow my craving. Every other shaggin' flavour except what I was craving for!
And ALWAYS a big Fuck You when I find a fish bone in my last scrummy bite of battered hake. It just pisses right on my battery and makes the entire plate of food feel contaminated. How can that crappy last bite dictate the overall satisfaction of a pretty good fish 'n chips dish?
My Final Fuck You:
I am so incredibly thwarted that no one is hosting Friday Shoegasm anymore. Very disappointed indeed, so I've decided to congregate my own group of Heel Worshippers. Link up, ShoeFreaks and reveal all yer favorite bed hooker heels, Lassies. Take the button below, post it on your blog and do a post on your favourite heels.
Louboutins Knock offs R765
 Have a brilliant weekend!
Share
|